The wheels of the carriage rattled against the cobblestones as it made its way east on its journey towards the Felidae estates. The two sturdy chestnut horses drawing the cart kept a steady pace, their iron clad hooves striking an invariable tempo against the road.
I watched the scenery flash past through the windows of the carriage, the undulating topography of the area around the capital slowly smoothing away as we moved towards the arable plains in the east.
The farmers were in the process of tilling the fields again, burying the remnants of the crops into the soil after the harvest. The old would serve as nourishment for the new and another cycle would be complete.
Our carriage, resplendent in all its gildings broke the monotony of their toil and wherever we passed, we caused them to pause, drawing looks of curiosity and awe as they looked up and wiped their sweat.
Children frolicked in the fields as their parents worked, the harsh sun kept off from their heads by cloth wrappings.
They dropped their games and ran alongside the road, trying to keep pace with us as long as their short legs could support them.
The one in the forefront tripped on a root and began to fall. The ones behind him, too slow to react would surely run over him if he did.
I drew upon my mana hastily but before I could act, a strong breeze blew, propping up the child and halting the following children in their tracks.
I turned my head to see Deimos hanging half outside the window with an arm outstretched.
The mother of the child ran up and hugged him while bowing in our direction in thanks. The rest of them were still waving at us when we turned a curve on the road and they vanished from sight.
Retracting my vision, I grinned at her, ruffling her hair. She tried to bat away my hands causing us to devolve into a tickling match. Her peals of laughter filled the carriage causing Phobos to part the curtains and peek in inquisitively from where she was handling the reins with Ceres by her side.
Seeing us horsing around, she retracted her head with a smile.
Yawning, Master sat up from where he had dozed off on the other side of the carriage with a book over his face. Regarding us owlishly he shook his head and muttered something unflattering before parting the curtains and replacing Ceres on the coachman's seat.
Master was a grouchy man after a nap. Specially when he had been pulling all-nighters throughout the duration of the journey to finish the books he had borrowed from the Duchess.
He was under obligation to return them by courier as soon as we reached home. I had tried to read them but had been rebuffed by the dry nature of the archaeological accounts.
I never understood how he could plough through them with such interest. Then again… he had made a similar remark about my interest in the stars. I guess it was all a matter of taste.
Deimos quietened down as soon as Ceres walked in while bracing herself against the walls of the moving carriage. Taking a seat opposite us, she offered us a small smile. Which turned strained under Deimos' wary gaze.
I sighed softly and rubbed my face. For some reason the two of them had developed contradictions between them and none of them could tell me exactly why.
Ceres mostly avoided Deimos, preferring Phobos' company over hers or even mine. The rest of the time she spent in her room with her books.
In sharp contrast Deimos felt caged at home and spent most of her time outside, training or roaming the streets observing the lives of others. People watching had always been a hobby of the observant girl.
It was probably their widely divergent interests that drove a wedge between them and I could only hope that they would warm up to each other as time passed.
Before the silence could grow awkward, Ceres spoke in a soft voice. "Umm… How long till the next stop?"
Thankful for the chance to alleviate the atmosphere, I mentally plotted our position and replied, "We have been travelling from city to city since the capital, taking a route that ensures that we reach the next stop before nightfall so we don't have to camp out at night. Today is our fifth day on the road so we ought to be reaching Patera in a couple of hours."
"Isn't that where sister Phobos' parents work?"
"Yeah. Patera is one of the border cities of our territory and they are in charge of supervising the trade and traffic in and out of the region. No inn for us today. We will live with Uncle and Aunt and let me tell you, she was the one who taught Phobos how to cook. One taste of her cooking and everything else will taste bland afterwards. You have been warned."
Deimos' eyes shined at the prospect of sampling Aunt's cooking, her animosity forgotten. Soon the three of us were chatting about inconsequential things. Rather I was the one talking while the two of them interjected once in a while.
Somewhere down the line, Deimos brought out a pack of cards and after finding out that Ceres was uninformed about the rules of three-way Snap, immediately set about correcting the travesty.
I had lost my third consecutive match due to their sinister collaboration when the carriage slowly ground to a halt.
Looking at the two smiling girls, I was speechless. Where was the animosity? The awkwardness? Was ganging up on me in a card game all it took to remedy their relationship?
Abandoning my losing hand in frustration, eliciting giggles from the two of them, I shook my head, parted the curtains and went out of the carriage.
…
As soon as Mars left the carriage, Deimos restrained her smile as did Ceres. Throwing down her cards on the table, she leaned back into her seat and studied the girl across from her.
Lush brown hair tied in a loose braid, large soulful eyes peeking through her glasses and rosy lips. She was beautiful and despite her lack of exercise and reclusive habits, she cut a lovely figure in her casual attire, a beige summer dress.
Deimos couldn't help but compare her own body with hers. Regular exercise had resulted in toned muscles. While not prominent, they clearly defined her curves, giving her a different sort of aesthetic. Her mild tan spoke of her love of the outdoors. They possessed different charms and she had confidence in her looks but she couldn't help but wonder who Mars liked more.
"Umm… sister Deimos… you don't have to pretend to like me in front of him. I don't like the feeling of tricking Husband like this."
Deimos bristled, "Don't presume to teach me. I just didn't like the look on his face when he saw us not getting along. I really don't know why I have this strange aversion to you but I will find out. If it is nothing but a delusion of mine, I will apologise but if you mean our family harm, you will find my teeth at your throat." She paused. "Either way, he won't be able to resolve this for us so he doesn't need to know that this problem even exists. Agreed?"
Ceres cocked her head to one side and smiled. "Really, sister? Death threats?" Sighing, she shook her head. "But you have one thing right. Husband doesn't need to know of your delusions. Agreed. From today, in public, we are the best of friends."
Deimos snorted, standing up and leaving the carriage in a huff, the curtains swaying in the breeze of her passing.
After some time, a soft sigh rang out in the lonesome carriage.
"She didn't tidy up the cards."
---
Deimos: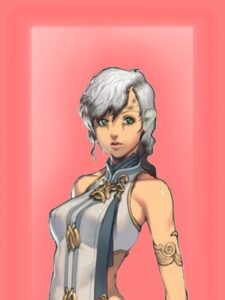 ---