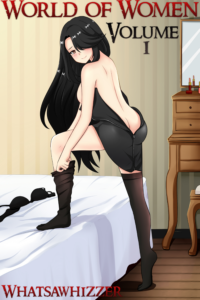 As you probably know, the last chapter of WoW will be released to public on the 19th. Due to overwhelming support from patreon, the pdf will be released on 10/31/2018. It will be available for all supporter at the $5 rank and above on patreon here. Anyone may also buy it for $5 through paypal.
What do you get?
-All of WoW: Volume 1 (120,000 words) reformatted, edited, and cleaned up.
-A bonus chapter, "Five Girls", which while I call it a chapter, it has five parts and may end up being the size of a small book :/
-Possibly an extended ending. I may rewrite/extend Chapter 29 into two chapters for pacing.
– All the images currently enjoyed on Patreon.
As for Volume 2: It'll start releasing starting 11/1/2018.
Thank you so much for all of your Patreon support. Although I'm at the limit of what I can manage as a writer (3 books at a time is about it), I will still try to pay it forward to you guys for your support. I plan to use some of the money to start other projects, which may include comic strips and a volume of a  manga.