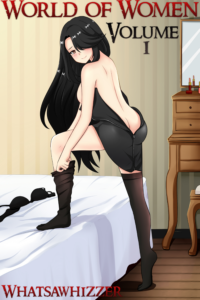 As promised, the pdf of World of Women is out. You can download the novel by contributing $5 or more on Patreon or donating $5 through paypal. Provide your email address, you will be emailed the pdf within 48 hours.

Volume 1 of World of Women Contains:
All 31 Chapters of Volume 1 of World of Women compiled, formatted, edited, and cleaned up for your reading pleasure.
5 Bonus Chapters, nearly 20,000 words of new content taking place between Volume 1 and Volume 2.
A Photo Gallery of all the WoW illustrations currently finished.
Please support the continued release!