WoW Chapter 30 has been unlocked. Below is some author's comments as well as an offer. You can read it or you can go straight to the next chapter if you Click here.
Thank you so much for your support and encouragement. WoW is yet another story I was able to finish thanks to the strong support of my fans. Your comments, your thoughts, and of course your patreon support have all been greatly appreciated.
The PDF for Volume 1 will officially release on 10/31/2018. It will be the first pdf that is only freely given at the $5 tier. Everyone else can purchase it for $5 from paypal. I will email you the file within 24-48 hours after payment, and the payment link will appear in the Table of Contents. Regrettably, I still haven't been able to get a digital storefront going and have to do this by hand. It will include some editing, but due to time restraints it might not be as good as I want. It'll also include a very large bonus story which I'm still in the process of writing. It may be over 20,000 words.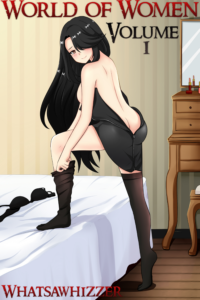 The first chapter of volume 2 will release on 11/1/2018 for all Patreon supporters. These will be released on MSB, but I will stagger them so Patreon can read one chapter ahead. 11/6/2018 is when the first chapter will unlock for all readers. For the moment, I'll release 2 chapters a week (Tuesday, Thursday). Let me build up a few written chapters, and then we can discuss what it would take for me to jump to 3 a week.
Alright, now that I got all that out of the way, here's my offer.
I think the last five chapters have been slammed with more criticism/anger than anything I've written to date. There seems to be a split between people who hated this story's ending and people who just want me to do me. For the first group, my interpretation of the anger comes from some fundamental misunderstanding about what this story was… from people upset that this isn't slice-of-life (okay…) or that it doesn't have an OP protagonist with a one tracked mind (hmmm…). At least most of my normal readers who have gotten through TOAS probably know I don't write generic wish fulfillment, and aren't surprised that a short story I wrote as a niche incest/pregnancy novel with dark themes was in fact a niche incest/pregnancy novel with dark themes.
For those from the second group, it's seriously fine. I don't mind the criticism and even though I don't agree with many of the sentiments and like to argue in my defense, that doesn't mean I'm two steps from a nuclear breakdown. You guys probably aren't used to authors responding to your comments, but I'm not so professional yet that I ignore comments from my ivy throne. I like interacting with you guys and it's part of the reason I do it. I don't mind the criticism guys, so don't think I'm going to suddenly quit WoW V2 because I like to argue my points in comments. The OVERWHELMING support on patreon has more than voiced most people's opinion on the story, and don't think I didn't notice most of the negative criticism came after I unlock the chapters, telling me most of the unhappy parties weren't the ones banking this story anyway.
So, why am I writing this? Because there was one tiny bitty thing that DOES irritate me greatly. It's because I did exactly what you guys warned me not to do. The ending of this story was NOT the ending I original intended. I changed it. I changed it because I received negative criticism 5-10 chapters ago, and thus made a change. The people slamming the story now are the same people that caused the story to end up with this ending in the first place, and most of their current complaints are things that only showed up because I made a conscious effort to deflect their previous complaints. (Although, let's face it, whatever ending I write, they would have complained).
I don't regret the ending I chose to go with. I asked every other original author on here their opinions before I decided to go this direction, and they encouraged me to follow this path. I weighed the implications on the story, and there were advantages and disadvantages with either choice. Both endings had good things and bad things. However, I still imagine what if, and I'm curious how my original idea would play out if I were to write it.
That's where you guys come in. Basically, I'm offering you the choice to see the alternative ending. I naturally have many many writing commitments between the bonus chapters, the pdfs, PoC, TOAE, and even Bonded Goddess might take off again. if I'm going to write it, I'm going to need to know there is substantial interest.
The alternative ending will only be released to Patreon Supporters, kind of like "A Certain Kind of Brothel in the Apocalypse". (You nonpatreons didn't know I had another ero story I don't announce, did ya!). However, it will only be released if the Patreon goal of $750 is reached. That's $50 above the current amount. I also should state that my account will almost certainly drop $$$ next month, so if it doesn't reach $750 this month, it probably won't.
I can't promise it will be released quickly. Maybe 1 chapter a week or two. It'll basically be a replacement of chapter 26-30, 5 new chapters. I will rewrite everything from scratch. I will not copy/paste anything from the already written chapters. However, I do warn you most of the things that happen still happen, they just happen differently.
What is the difference between the alternative ending and the original? It's only one thing, but it completely changes the ending and every chapter in it. This story was told completely differently as a result. That is that Hannah wouldn't be Faeri. Faeri, as originally conceived, was a new half-sister character and full-blown Yandere. This version isn't lighter… it's darker. This genuinely psychopathic Faeri was lightened up to be more in line with Hannah's personality, but in the original she rapes him, psychologically tortures him, and yes… it'll still end with Mom attempting to kill her and hitting Tinya instead and being led away in cuffs, although some may find the mom being driven to kill a psychopath more palpable than her own daughter.  This ending doesn't save Tinya or Morgan. Well, at least Hannah wouldn't end up in jail and and their ordeal would have many downstream implications between Clyburn's relationship with her which won't ever reach V2.
If that sounds like something you wanted to read, vote with your wallets. I'm just leaving it open as an option and gauging interest. Either way, I'll continue to produce content. The amount of support I've gotten this month has been unimaginable, and you guys are allowing me to do something I haven't been able to do since I started, have extra money to start new projects. As my long-term Patreon supporters can attest, I'm the kind of guy who likes to pay it back to my supporters. Support other guys and they pocket the money and run (*cough* YAYD *cough*). Support me and I will spend it to keep sending you new and better content. Become a Patreon Supporter Now! Who knows, keep supporting me and I might even write you that generic OP Protagonist ero some of you guys love so much.
Thanks again for all of your support, I look forward to continuing to write for you guys.