Lining the insides of my lungs with wind mana, I inhaled deeply. The air in the carriage became scarce as my lungs filled, the mana compressing the air to help me build a reserve of oxygen for the upcoming battle.
Striding out of the door, I faced my opponent, her form almost indistinguishable in the shadows cast by the carriage, except for her pair of luminous yellow eyes.
In the depths of her soulful orbs, I found thick cordiality, suppressed by the vicious feelings of the ancient existence that we knew as the Goddess of life.
As our gazes met, the air seemed to stagnate and the very world stood still as if in anticipation of our contest.
One moment, she was a picture of stillness, the next she was in motion.
Zigzagging from shadow to shadow, she was but a phantom in my eyes as the shadows seemed to welcome her as one of their own.
Tier 1 shadow magic: Shadow Stealth.
Unlike Deimos, who had managed to sever Vita's connection to her mana pool and prevent her from utilizing magic, Phobos' self-torture had let the Goddess sink her insidious fangs too deep.
I tensed, falling into the beginning stance of the Thunderclap Samsara Palms with my right leg drawn behind as I placed my weight on my left foot. My right palm faced forward with their fingers pointing upwards on my outstretched arm while my left palm was by my waist with the fingers pointing down and the palm facing outwards.
My opponent might be stronger this time around, but I too had made great strides in my martial prowess. It was time to put myself to the test.
Right before she entered my range, she opened her mouth and roared.
Instead of sound, formless ripples of darkness spread out, dimming the moonlight and deepening the shadows.
Shadow Stealth level 2: The Call of the Dark.
Not only did it affect vision, it dampened all sound in its range, making it nigh impossible to spot the elusive feline.
Thankfully, sight and sound weren't the only senses at my disposal. Moving rapidly through the stances of my martial art, the air around me rapidly coalesced into a vortex as my hands blurred. It formed a protective sphere of wind, aided by the coat of wind mana on my palms.
Now, if anything intruded into the range of the sphere, I would be able to detect it immediately.
For a moment, there was no sound except for the howling of the wind as I continued to maintain my technique.
I wasn't worried. This state of affairs was quite favourable to me. While it was true that I had only a third of Phobos' mana, my technique being a blend of martial arts and magic drew upon both my physical strength and mana, hence reducing the mana consumption.
The Call of the Dark, however was a purely magical technique, that too, one forcefully promoted by Vita's will. Thus, it was burning through her reserves at a much faster rate.
A battle of attrition was favourable for me.
Just as I was about to relax, a huge sense of crisis covered me, originating from my left. My subconscious tendency to guard my left side due to Phobos' last words was the only thing that saved my life as she exploded out of my shadow, in a blur of mobile darkness.
Tier 2 shadow magic: Shadow Walk.
My preparation allowed me to shift the trajectory of my palm, slamming it from below into her jaw, shutting it in a glow of white as her barrier counteracted the force.
Yet, the strike shifted her motion path upwards and she sailed over my head, swiping her paw at me as she passed by.
I was sent flying as my own barrier which I had gained after my contract with Deimos, lit up a blinding white from the force of the blow.
Rolling on the ground to bleed off the momentum, I narrowly dodged another one of Phobos' strikes as she followed closely after me.
Panthers were the assassins of the forests. Using their dark coat to blend into the shadows, they ambushed their unsuspecting prey before taking them out in a single strike.
They were heavy cats, yes, but they weren't as heavy or muscled as the Siberian Tiger. They were fast, but a cheetah would leave them in the dust in an all-out sprint.
What they excelled at was explosive force. They could transition from rest to motion in an instant and bring the entirety of their strength to bear in one fatal strike.
Even the glancing blow I had taken from her had wiped out a third of my mana when it was blocked by my barrier.
Leaping to my feet, I applied Tier 1 wind magic: Haste to myself, reducing the wind resistance and lightening my weight.
Nimbly manoeuvring between the trees, I put some space between us as my mind worked furiously, searching for a path to victory.
In the end, I found only one.
My mana was running dangerously low and even a single strike from her would signal my end. Thus, I had no choice but to stake everything on a single throw of the die.
Retaking my stance in a clearing, bathed in the silver moonlight, I closed my eyes, entrusting my life in Phobos' hands.
Totally giving up my defence of my right side, I focused all my senses towards my left as I concentrated my remaining mana into my palms.
I entered an elusive condition under the threat of death, my mind merging with the air around me. It felt like even with my eyes closed, I could see.
No, it was more than that, I could see, touch, hear and feel everything in contact with the air.
The wind was my eye, my nose, my tongue, my skin.
A shift in the air currents to my left…
I exploded into motion, my mana infused palms coming together in a blur, briefly shattering the sonic barrier…
Like a Sudden Thunderclap.
Phobos, who had just emerged from my shadow took the full brunt of the sound wave to her face, the vibrations bypassing her barrier and dizzying her.
Without delay, I hammered my joined fists down on her head, slamming her to the ground before chaining it into an elbow strike followed by a shoulder drop.
What kind of son would I be if I didn't finish her off with…
The Nutcracker.
With the sound of shattering glass, her barrier expired and she lost consciousness.
Exhausted, I collapsed onto the ground beside her as I watched her slowly morph back to her Bestia form.
Exhaling the last of the compressed air in my lungs in a white jet of steam, my taut muscles finally relaxed and I began to drift in and out of consciousness from the mana exhaustion.
Dragging my body to her supine form, I pulled off my shirt and covered her with it.
Biting my finger to draw blood, I wrote down the sigils for shadow in the old language onto her right hand with great difficulty as my vision kept swimming.
With a stinging pain, I felt the contract magic take hold, binding us together.
Satisfied that I had done a better job than with Deimos' mark, I gave in to the sweet release of a dreamless slumber.
My last thoughts before I drifted off, were on whether Phobos would let me cash her promise of a reward.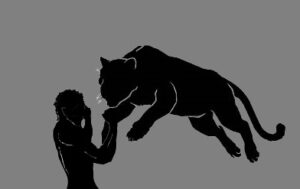 ---